Anschrift
Blacktrack (Company Iconic Item SA)
in der Classic Remise Berlin
Wiebestraße 36 - 37
10553 Berlin

About Blacktrack: vision, history and founder
Blacktrack's vision
Blacktrack has been created in 2016 by the french designer Sacha Lakic. Lakic created this label with the aim of creating functional and emotional products that give pleasure to its owner.
Blacktrack creates this rare feeling that emanates from an exceptional encounter with shapes, colours and a distinctive design. It is embodied in the café racers, cars and fashion accessories designed by Sacha Lakic.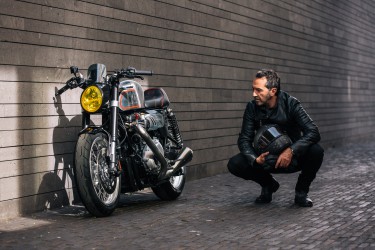 The history of Blacktrack
The birth of Blacktrack with its first cafe racer: the BT01
After years of creating many designs and architectural projects, Sacha Lakic came back to its inspirational roots which are movement and speed. The creator has always been fascinated by vehicles, especially motorcycles and certain car models. His love for technology nourished by its talent for creation pushed him to launch Blacktrack in 2016 with his very first custom, the BT01, based on a Honda CX500.
The creation of three exclusives cafe racers
Between 2016 and 2019, Blacktrack has created three cafe racers. The BT02 was designed one year after the BT01. This time, the designer went for a Triumph Thruxton base, and took the famous Norton Manx as its inspiration. In 2019, Sacha Lakic revealed to the world the bold BT03, a cafe racer with an impressively sleek and modern look. It has been customized from a Harley Davidson Fat Bob 114 softail. Each model only exists in 1 to 3 units in the world.
The first Blacktrack's restomod car: the BT04
On the eve of 2021, Blacktrack unveiled its first customized car. Sacha Lakic was inspired by the man-machine fusion that is commonly attributed to motorbike sensations. He has focused this makeover on the pleasure of riding. For this historic first car for the brand, the designer chose the iconic Porsche 911 as the basis. The exact model is a Porsche 964 Carrera 4.
The last build of Blacktrack: the BT05 cento
Since the inception of Blacktrack Motors, building a cafe racer around a big Moto Guzzi V-twin engine was at the top of my list,' says Blacktrack Motors founder and lead designer, Sacha Lakic. The BT-05 only uses the Moto Guzzi engine. The rest of the bike is stripped away, and replaced with carefully selected and purpose-built components. This results in a drastic weight reduction too, from 225 kg to 175 kg.
A line of mens accessories that seeks to capture the ethos of Blacktrack vehicles
After 5 years of customizing vehicles, Blacktrack is launching a new line of high-end accessories for men and women. Blacktrack is intended to be the definition of what drives the creation process of the label: the attraction between a person and an object.
Classic Remise Berlin
Öffnungszeiten
Montag - Samstag: 08:00 bis 20:00 Uhr
Sonn- und Feiertag: 10:00 bis 20:00 Uhr
Eintritt ist kostenlos!
Wir bitten um Voranmeldung für Gästeführungen.
Bitte beachten Sie folgende, wichtige Hinweise bei Ihrem Besuch in der Classic Remise.